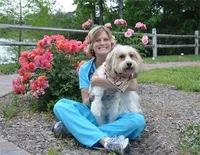 We are blessed to have Dr. Tracy LaDue just around the corner to provide cancer treatment for our pets.
Dr. LaDue owns Southeast Veterinary Oncology in Orange Park Florida and is pictured here with Ella Axle Chicken Legs Donofro on her graduation day from Radiation Therapy. Chicken had a tumor on her side that could not be completely removed and radiation gave her an 80% chance at remission.
Dr. Melanie and Dr. Jennell work frequently with both Dr. LaDue and Dr Locke to provide comprehensive cancer care for your pet.
To Learn more about Southeast Veterinary Oncology please click here....
Another good resource is CSU Animal Cancer Center