Utilizing ancient C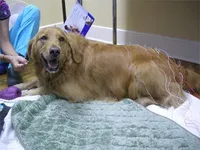 hinese practices and principles, Veterinary Acupuncture can be quite beneficial in maintaining or improving your pet's overall wellness. Dr. Melanie Donofro, a graduate of the Chi Institute of Chinese Medicine, has been providing acupuncture services for Big Bend area pets since 2001. Working with cats and dogs of all ages, Dr. Donofro has found that acupuncture treatments alleviate pain and discomfort associated with various conditions such as:
Arthritis and Vertebral Disc Pathology
Hip Dysplasia
Nerve Damage/Paralysis
Muscle and Tendon Injuries
Gastrointestinal Problems
Respiratory Problems
Lick Granulomas
Before the first acupuncture session, Dr. Donofro will meet with you and your pet to gather medical history, review lab work and radiographs, and perform a comprehensive physical examination. During this evaluation, Dr. Donofro will form a customized treatment plan for your pet and answer any questions you may have. One of our Client Service Coordinators will then schedule your pet's treatments.
The frequency, intensity, and duration of your pet's acupuncture treatments will depend upon their age, health, and/or the type and severity of the problem they're experiencing. For example, patients visiting us for wellness treatments may only come as needed for the relaxation and health benefits acupuncture provides. Our patients with acute medical issues, on the other hand, may require a few treatments until long term positive results are seen. If your pet has a painful condition, Dr. Donofro will address this in conjunction with acupuncture to insure your pet is comfortable until the effects of acupuncture treatments are prolonged. Pets with chronic problems are often scheduled for weekly treatments for several weeks and gradually started on a maintenance program.
During acupuncture sessions at Los Robles, Dr. Donofro will insert small, thin needles into points along your pet's torso, legs, and paws. The needles stimulate nerves, resulting in increased blood circulation to injured or diseased areas of the body. They also ease muscle spasms and signal the release of important hormones that facilitate pain relief. It is common for Dr. Donofro to also use an infrared laser during these treatments. The laser's beam gently stimulates points that need to be addressed but may be too sensitive for traditional acupuncture.
In some cases, Dr. Donofro may introduce electro-acupuncture into your pet's treatment plan. Electro-acupuncture stimulates points by passing very light electrical currents through acupuncture needles. Though more intense than traditional acupuncture, electro-acupuncture is extremely safe and often decreases pain significantly. This method is used most often in our patients with acute painful conditions such as disc prolapse and severe, chronic medical issues.
After your pet's acupuncture treatment, we suggest you monitor their response at home. One of our staff members will call a day or two after your pet's treatment to see how they're progressing. Though side effects to acupuncture are rare, please let us know if you suspect your pet is having any problems (sleepiness or lethargy are the most common). Of course, we'll also want to hear about your pet's improvement. A positive response to acupuncture is usually seen within the first three treatments so be sure to track your pet's success. Keep us updated!
For many conditions Dr. Donofro will suggest you make an appointment with Dr. Appel who is certified in rehabilitative medicine. You will learn exercises that will keep your pet limber, strengthen muscles and augment your pet's acupuncture treatment. Many times Dr. Donofro, who is Certified by the American Veterinary Chiropractic Association, will recommend spinal manipulation during the acupuncture treatments to further improve your pet's condition.
If you're interested in veterinary acupuncture for your pet, please contact us at (850) 222-3117. We'll be happy to answer questions and schedule an appointment for you and your pet to meet Dr. Donofro.