Pet Pharmacy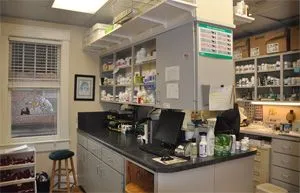 At Los Robles Animal Hospital, our in-house pharmacy stocks a wide variety of prescription medications, supplements, and Chinese herbs to maintain your pet's health. We also offer products for heartworm and flea prevention to keep your companion bug-and heartworm free!
We offer most veterinary pharmaceuticals the doctor prescribes for your pet. In some cases, if we don't stock the specific medication your pet needs, we'll gladly order the required medication or call it in to a pharmacy of your preference.
We rely on Stewart's Pharmacy locally or Road Runner Pharmacy, North Beaches Pharmacy and Wedgewood Pharmacy to compound certain medications. These pharmacies ship either to our hospital or to your home. Their pharmacists are able to formulate the perfect dose of medicine for your pet and even mix medication into tasty liquids, treats or transdermal gels your pet won't mind taking.
You can also order prescription medication through our online store.
As an added convenience, you can order prescription medication for your dog or cat through our online store. Products available through our online store are competitive with other internet pharmacies but maintain the manufacturer guarantee. Products and food ship directly to your doorstep!
Ordering through our online store is the same as purchasing medication from our clinic without leaving the comfort of your home. Accounts are provided to all clients who have an active email address. We are happy to walk you through the process, or if you prefer will place the order on your behalf. Check it out today at https://lrah.vetsfirstchoice.com/.