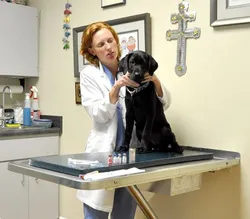 Healthcare Wellness programs are an essential part of your pet's overall health care. The doctors at Los Robles Animal Hospital take the time to examine your pet and develop a personalized health care plan depending on their age and medical condition. An annual physical exam, proper nutrition and exercise, dental care, parasite control along with a tailored vaccination schedule will keep your companion happy and healthy for many years.
As part of your pet's customized wellness program, we offer:
In house blood tests
Complete urinalysis
Radiology
In depth physical examinations
Acupuncture
Spinal manipulation
Fitness programs
Post-operative rehab for orthopedic patients
Dentistry
We are happy to call or email reminders when your pet needs an in between checkup or blood test.
We invite you to call and make an appointment with Dr. Melanie or Dr. Jennell and get your pet's wellness program implemented.